Let`s Begin "Preventive First Aid"【During2019】
What is "Preventive First Aid"?
Some injuries treated in EMS and transported by ambulances are preventable with a little caution.
"Preventive First Aid" is the action to consciously avoid major injuries called for emergency by understanding and keeping in mind the risks of bodily harm on daily basis.
Let's start up "Preventive First Aid"!
In Atsugi, as seen in fig.1, number of ambulance dispatch and people transported by EMS has been increasing year by year, and continuous increase is estimated in the future due to the increase of aging population.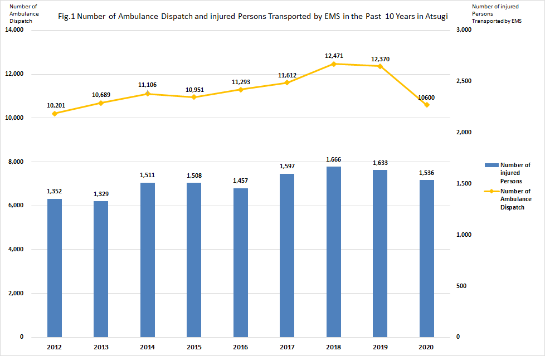 Number of people and elderly persons transported by EMS due to injuries accounted in the past 10 years in Atsugi, as seen in Fig.2, has also been increased.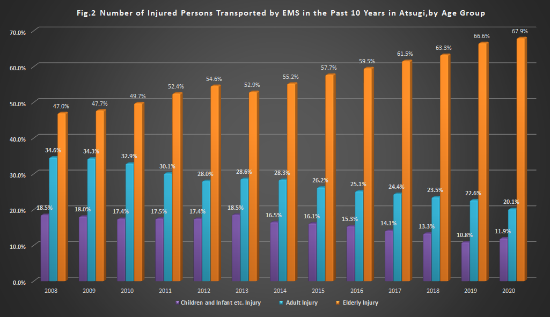 Analyzing the emergency transport data of injures in Atsugi, there were many cases of "Tumbles", "Falls", "Bumps", etc., both indoors and outdoors.
These accidents can be prevented by "a little attention" and "Preventive measures" in everyday life. For the safety and security of everyone's life, let us start up and work on "Preventive First Aid" by recognizing the danger on daily basis by referring and analyzing the past data.
Causes of Injury Based on Emergency Transport Data During 2019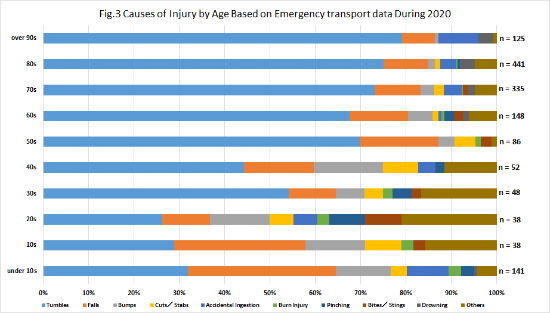 As you can see from the Fig.3, "Tumbles", "Falls" and "Bumps" account for a high percentage in all age groups.

Looking at it by age groups,
Under 10 years of age, "Accidental ingestion" and "Burn injury" are high.
In the 10s, "Bumps" is the highest rate compared to other age groups.
In the 20s, "Falls", and "Cuts / stabs" take a large percentage.
From the age of 30s and over, "Tumbles" accounts for the largest percentage.
Focus upon Place of Injury Occurrence
At residence, the most common causes of injury where falls and tumbles.
Living rooms are the most likely spot of injury at residence followed by bed rooms and entrances.
At public places, similarly to residential injury cases, the most common causes of injury where falls and tumbles. It occurs mainly inside stores or at parking spaces.
The most common causes of road injuries were due to falls.
Focusing upon the places of injury occurrence, it is at residence that takes the highest rate. Be safe and secured by working on "Preventive First Aid" to recognize the danger of injury on daily basis.
Learn Preventive First Aid from Past Injury Cases of EMS